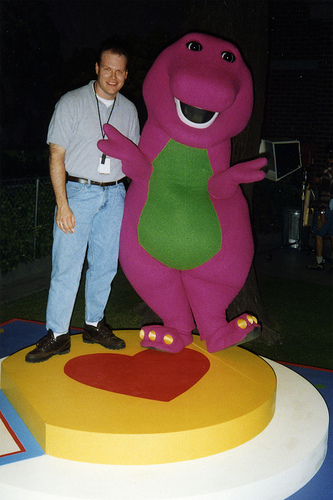 Barney's Fun & Games It a Barney Home Video It was released on VHS and DVD in the Canada on May 21, 1996
Plot
Barney brings out his Game Machine for an afternoon of fun. But when the machine is empty; Barney, Baby Bop, BJ, and the kids look for toys and games to put into it. Meanwhile, After the machine is filled with games, the kids turn the crank and out comes one big gameboard filled with fun and surprises!
Cast
Songs
Barney's Fun & Games Previews (video re-releases)
1996 (Barney Home Videos version)
Opening
Released Dates
Trivia
Barney has his Season 3 voice and 1994-1997 costume.
Baby Bop has her Season 2-3 voice and 1996-1997 costume.
BJ has his Season 3 voice and 1996-1997 costume.
The Barney costume from the video of the same name is used
The Musical arrangments from the 1996 Season 3 home video of the same name is used
The Season 3 Barney & Friends set is used.
This home video was filmed in March 8, 1995.
The Season 2-3 Barney doll used in this home video was also seen in the home video of the same name.
Season 3's I Love You has the same vocals from that version used in "Barney's Magical Musical Adventure" in a different pitch. During the I Love You song, Barney, BJ, Baby Bop and the kids sung both verses of the song, rather than Barney singing one verse by himself. This version has the same version in the first verse as Barney's Sleepytime Songs with a different pitch and a faster tempo and the second verse has the same style as Spainsh Version Season 3 with also a faster tempo.
Min has his 1994 voice and and look.
Jesse has his 1994 voice and look,
Jason has his 1994 voice and look.
Kristen has his 1994 voice and look.
When Kristen sings the "That's Hats" song, it is mentioned that her favorite color is yellow, just like Juan's and Baby Bop's.
This is the first home video to released in May 1996, the same day another Nick Jr show The Hoobs premiered on most PBS stations.
This is the another video title that uses the regular Season 3 intro.
Ad blocker interference detected!
Wikia is a free-to-use site that makes money from advertising. We have a modified experience for viewers using ad blockers

Wikia is not accessible if you've made further modifications. Remove the custom ad blocker rule(s) and the page will load as expected.