Super Singing Circus is a Barney Home Video that was released on May 16, 2000.
Plot
When Emily announces that she can't attend Saturday's circus, Barney and the children put one on. Barney plays ringmaster, while the children preform in many different acts. Meanwhile, BJ waits for his cannon to arrive, but when it turns out to be too small, Scooter McNutty is the one who gets shot out.
Cast
Song List
Trivia
This video was originally called "Super-Dee-Duper Circus"
This video was filmed from August 9-20. 
Kristen returned in this video after being absent for almost a year since the video Barney's Night Before Christmas.
This was the last video to be compatible with the ActiMates Barney.
Save for the theme song, every song was re-composed for this video.
David Voss played one of the clowns and the Teddy Bear. This is also the second time he portrayed a character since Barney Live! In New York City.
This is the only time Emily and Kristen appear together.
Film Schedule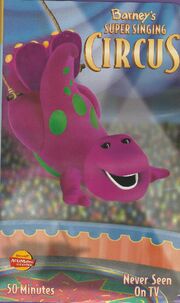 Videos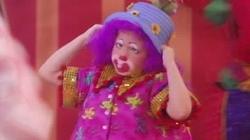 Ad blocker interference detected!
Wikia is a free-to-use site that makes money from advertising. We have a modified experience for viewers using ad blockers

Wikia is not accessible if you've made further modifications. Remove the custom ad blocker rule(s) and the page will load as expected.