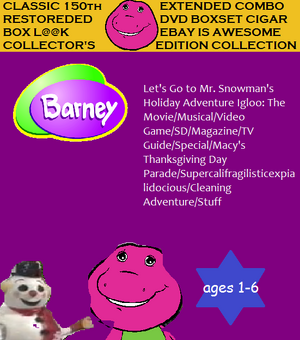 Barney - Let's Go to Mr. Snowman's Holiday Adventure Igloo: The Movie/Musical/Video Game/SD/Magazine/TV Guide/Special/Macy's Thanksgiving Day Parade/Supercalifragilisticexpialidocious/Cleaning Adventure/Stuff is a video released by The Loyns Group in 4154.
Plot
Barney takes the kids to Mr. Snowman's party lair of epic awesomeness to fight ice ninjas and snow pirates, and maybe the most elusive person known to man: Heat Miser. Heat Miser wishes to destroy Mr. Snowman and the ice planet of Alaska, so Mr. Snowman, Barney, and the kids raise money to destroy Heat Miser and save the world from global warming. Barney and the kids fail and the world burns. As it turns out, it was Rickety Carturr's dream. Wait..we already did that..how about, it was his dream, and that dream was Lauren King's dream, and that dream was Barney's dream, and that dream was imagined by a 3 year old with raging stupidity. Wait..that's not a disease.. That's it! I'm a genius! :-D
(not yet) DA END.
Songs
Brany Theem Sung
Wut Mak a flour sew prity (Mai Mahmah sow prity)
Ice-E Creem-E Aise Crimee (Culd und Swit vurseeun)
Mr. KnockerBonker
Mistar Snoh-Man
Misseur Bonhomme de Neige (Bonjour, Can-Can Girls!)
Sellie Sowndz
Señor Muñeco de Nieve (Hell-Oh Mexican Hat Dance)
Census Song
מר איש שלג (Mistur Sno-Mahn - Hava Nagaila Mix)
Ef Aww da Reign-Drops
Guten Tag Herr Schneemann (Hellow Meester Nat-See)
Is Cu-cu-cu-cu-cu-ald Boooooore
Halló herra Snjókarl (Mai FrowZen Test-Icles)
Dlrow Llams A S'ti
ハローミスター雪だるま (Harro Mista Snoh Mawn)
Sense-us Song
It's A Giraffe (BRRR!)
Cleen Uh-puh
I ruv yew
Ad blocker interference detected!
Wikia is a free-to-use site that makes money from advertising. We have a modified experience for viewers using ad blockers

Wikia is not accessible if you've made further modifications. Remove the custom ad blocker rule(s) and the page will load as expected.