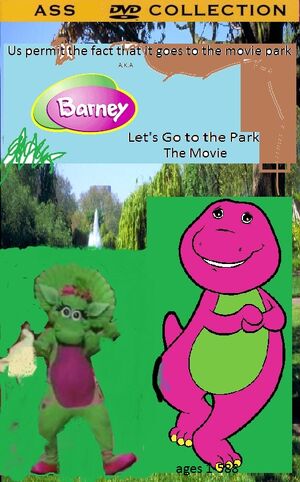 Us permit the fact that it goes to the movie park (Otherwise known as Barney - Let's Go to the Park: The Movie) is a Barney Hoe Video released in 2004 by The Lyons Group, in essence their second video. In this movie, Barney and friends go to a park.
PLOT:
Barney and friends go to a park and meet the Seven Dwarfs.
CAST:
Alexander Graham Bell - David
George Washington - Stephen
Joan of Ark - Loosey (I'M HOOOOOOME!)
Jesus - Barney (costume)
God - Mr. Sun
Aslan - Barney (voice, pitched down to +16)
Walt Disney - Bank teller
Albert Einstein - Professor Tinkerputt
Zac Efron - Mr. Snowman
Lumiere- Stacy
Pocahontas - Mocha store owner place thing
The MGM Lion - Baby Bop (costume)
Betty White - Baby Bop (voice)
SONGS:
Barney Theme Song (pitched up to -9000)
Never Gonna Give You Up
The Assumption Song
Come, Thou Fount of Every Blessing
Let's Go Let's Go Park Park Park Park
Back In Time
Ad blocker interference detected!
Wikia is a free-to-use site that makes money from advertising. We have a modified experience for viewers using ad blockers

Wikia is not accessible if you've made further modifications. Remove the custom ad blocker rule(s) and the page will load as expected.