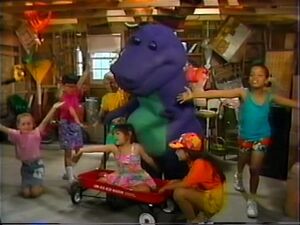 The Backyard Show is a Barney & The Backyard Gang video released in October 13, 1998.
Plot
Amy and Michael want to surprise their dad for his birthday. With the Backyard Gang in doubt, there's no way the show can be produced quickly (or, so they think). Fortunately, Barney the Dinosaur comes to life, and encourages the kids to use their imaginations to help make the show a reality. Along the way, they sing songs and recite rhymes that are later sung in the birthday show. The show ends up to be a success with Dad doing the "Hokey Pokey".
Ad blocker interference detected!
Wikia is a free-to-use site that makes money from advertising. We have a modified experience for viewers using ad blockers

Wikia is not accessible if you've made further modifications. Remove the custom ad blocker rule(s) and the page will load as expected.